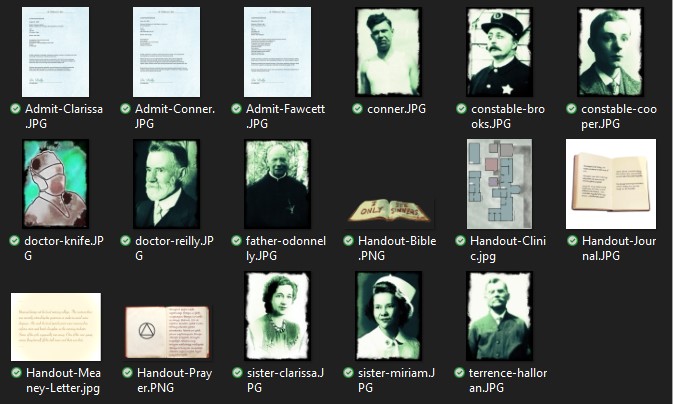 Convalescence – A 1920s Adventure for Call of Cthulhu – Miskatonic Repository
Well, I've gone and done it. I took place in the Storytelling Collective's workshop to write a tabletop RPG adventure. And it's released to the world! There's no hope for us now. To buy it, go to DriveThruRPG.  Here's the synopsis.
Wounded investigators take time to heal in a quiet country clinic near Dublin. Almost mended, they are ready to be voluntarily discharged. But they wake to two horrifying and gruesome murders that makes them fear that among angels of mercy may walk an angel of death.
In this single map one-shot adventure, playable in a single session by two or more players, investigators begin under the threat of peril and must use their wits and skills to separate lie from truth, discover the wounds that time won't heal, and stop who or what killed a patient and her companion.
This adventure includes 13 pages of scenario information, seven pages of handouts, and six pre-generated investigators to use at the Keeper's discretion.
Adventure Features:
The scenario overview contains the essential details: a thorough map and key with locations, encounters, and SAN penalties.
To aid the Keeper, all clues appear in an at-a-glance section for easy reference.
Possible story hooks, opportunities for investigators to acquire weapons, and several potential outcomes make it easy for a Keeper to run.
The mix of NPCs and the Cthulhu Mythos connection enable varied possibilities for scenario resolution.
Color handouts.
Trigger warnings: Horror, Religion, Violence
The adventure begins on an early sunny Sunday morning in August 1922 near Dublin. The staff of St. Midabaria Clinic wake to discover two murders. Sister Clarissa, an old nun and former nursing instructor, checked herself into the clinic the night before. Her body lays in a pool of her own blood after a brutal attack in her private room. Father O'Donnelly, her colleague and traveling companion, was viciously strangled in the clinic's chapel. Investigators may be recently recovered patients at the clinic, or possibly contacts who have arrived to provide transportation, or even seekers of cultist connections.
The scenario encompasses five chapters with approximate timings:
Chapter 1: Killings at the Clinic — The investigators hear about the two murders at the clinic overnight and the administrator begs for their help. (10 minutes)
Chapter 2: Searching for Secrets — The investigators explore the clinic, interview the staff, and discover clues. (90 minutes)
Chapter 3: Authorities Arrive — The investigators face the police, who are an obstacle and increase the danger. (20 minutes)
Chapter 4: [redacted to prevent spoilers] (30 minutes)
Chapter 5: [redacted to prevent spoilers] (10 minutes)
This scenario is suitable for new or experienced players. It can be run standalone or as an interlude in a larger campaign. Investigators are always getting injured and finding a reason to get them into a clinic isn't difficult. Getting them out … that's another story.
A SanityFree Adventure, with thanks to Storytelling Collective and Chaosium. Some players were harmed in the making of this scenario, or so they tell me. They got better.